How to Measure a Necklace?
Share
Issue Time

Mar 8,2023
Summary
You should consider your own measurements and similar factors when determining the right necklace size for you. Here's how to determine the length of your necklace in detail.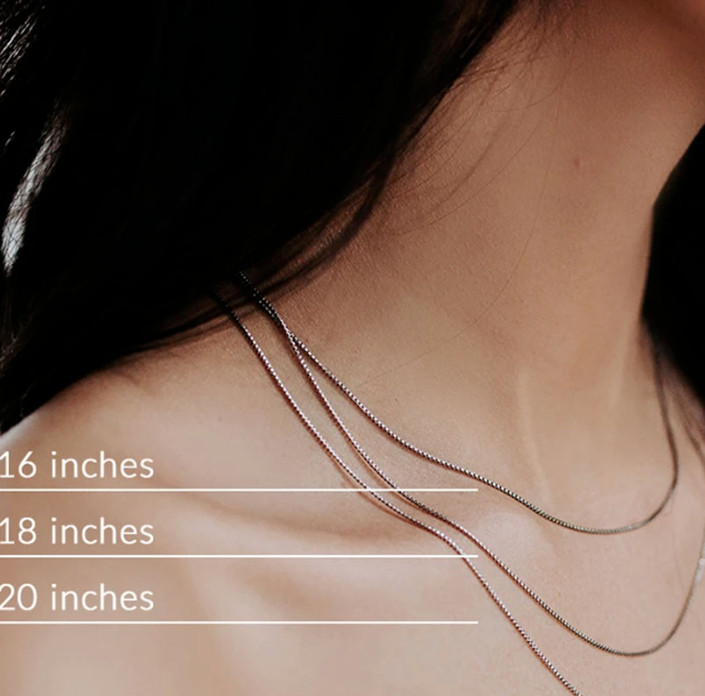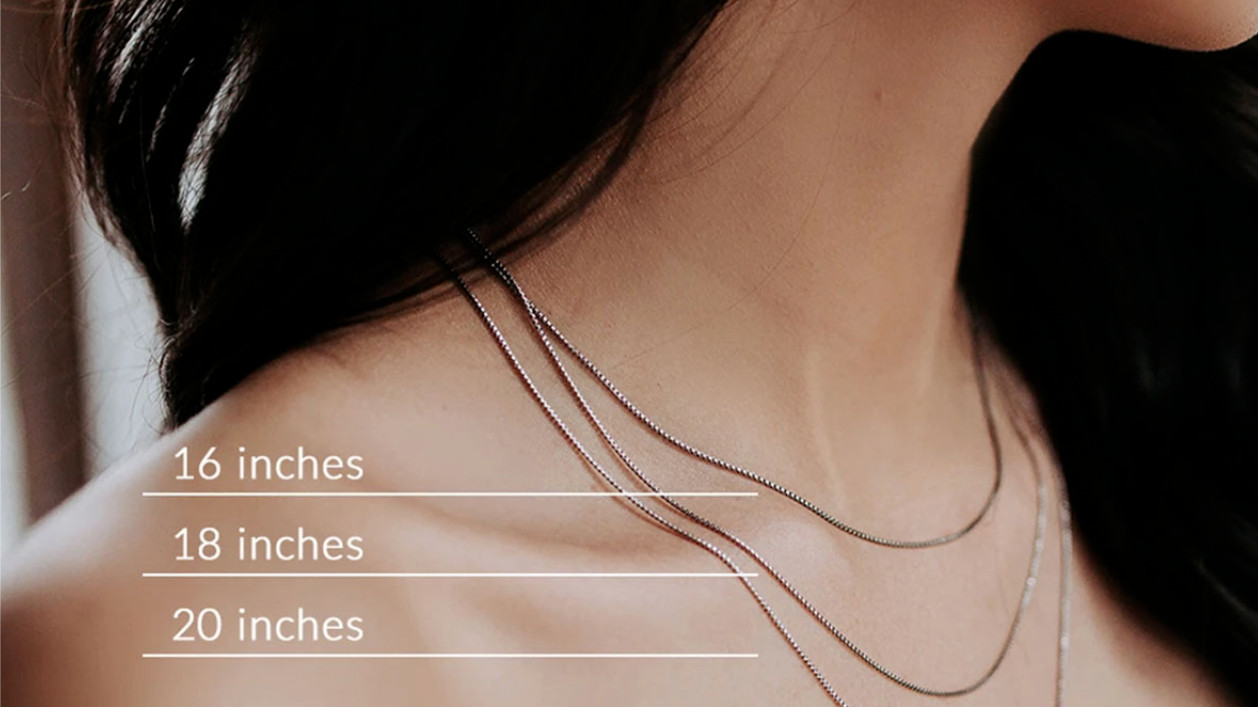 Necklace
size is determined by chain length. While there are some standard necklace lengths, you should consider your own measurements and similar factors when determining the right necklace size for you. To measure a necklace, use a ruler or measuring tape to determine the chain length. Use this measurement to determine if the necklace is right for you or your loved one.
Part 1: Measuring the Length of the Chain
1. Loosen the Chain and Place It Flat
Necklace measurements are essentially chain measurements. If you want to measure the chain, you need to keep it open and as straight as possible. Place it on a table or flat surface for easy measurement.
2. Measure the Length with a Ruler or Measuring Tape
Extend the tape measure from one end of the chain to the other. Don't forget the clasp in the measurements. The complete chain including the clasp should be measured as this determines how long the chain will hang.
- Does not include the length of any charms or pendants hanging from the chain.
3. Pay Attention to the Length
You can make a mental note or write it down. This length is a marketable size for a necklace. If you live in the US, measurements are usually in inches, while most other places in the world use centimeters. However, you can measure in both units if you prefer.
- If your measurement is not exact, round up to the next inch or centimeter.
- If this is the length you want for your new necklace, you can take this length with you when you are looking for a necklace
Part 2: Measure the Right Necklace Length for You
1. Measure Your Neck Size
Neck circumference is probably the most important measurement in determining the best necklace length for you. When measuring, wrap the soft tape measure around your neck and keep the tape measure parallel to the ground while measuring. Then, add 2 to 4 inches (5 to 10 cm) to your neck measurement to calculate your minimum recommended chain length.
- If your neck size is between 13 (33 cm) and 14.5 inches (36.8 cm), then 18 inches (45.7 cm) is a good choice for necklace length.
- If your neck size is between 15 (38 cm) and 16.5 inches (41.2 cm), then a 20-inch (50.8 cm) necklace is a good choice.
- If your neck size is between 17 (43.2 cm) and 18.5 inches (47 cm), then a 22-inch (55.9 cm) necklace would be a good choice for you.
2. If the Chain Cannot Be Customized, Please Choose the Standard Length
If you are unable to customize the necklace length to your neck size, simply choose one size larger than your neck size as your minimum necklace size. For example, if your neck size is 17 inches (43 cm), your minimum should be 20 inches (50 cm), not 18 inches (45 cm).
3. Please Consider Your Height when Choosing the Length
In addition to the size of the neck, height also affects the position of the necklace on the neck. Long necklaces will overwhelm shorter people, while shorter necklaces will disorient tall people.
- If you are under 5 feet (1.5 m) 4 inches (162 cm), stick to necklace sizes between 16 and 20 inches (40 and 50 cm).
- For persons between 5 feet (1.5 m) 4 inches (162 cm) and 5 feet (1.5 m) 7 inches (170 cm), any length necklace will fit.
- People who are 1.5 m (5 ft) 7 inches (170 cm) or taller will look best with longer necklaces.
4. Choose the Size That Suits Your Body Shape
Just as different clothes can complement different parts of the body, different necklace lengths can accentuate different parts of the body. Short, thin chains are a good choice if you're on a leaner build. For fuller figures, slightly longer and thicker chains are more flattering.
- If you want to emphasize the bust, choose a necklace that draws attention to the area below the collarbone and above the bust. Typically, a 20 to 22-inch (50 to 55-cm) necklace will do.
- If you have a flatter, less prominent bust, a thin chain around 22 inches (55 cm) tends to look elegant.
5. Balance the Length According to Your Face Shape
Depending on the natural shape of your face, necklaces can subtly make your face appear wider, narrower, longer, or shorter. Therefore, different necklace sizes can flatter some face shapes better than others. Some styles that suit different face shapes are:
- A choker necklace between 10 and 16 inches (25 and 40 cm) can help soften the sharp corners of the chin for those with heart-shaped faces. This strategy also works on people with oblong and oblong faces.
- People with round faces should avoid chokers as these make the face appear rounder. Longer necklaces, between 26 and 36 inches (66 and 91 cm), will elongate the jawline better.
- If you have an oval face, all necklace lengths should be equally flattering.
Part 3: Learning Standard Sizes
1. Understand the Standard Length of Women
Standard necklace chains designed for women come in five basic sizes. For most women, these sizes will fall on the same part of the body. Standard sizes are:
- Collar length is 16 inches (40cm).
- The Princess measures 18" (45cm) in length, but this measurement can actually be anywhere between 17 to 19" (43 to 48cm). This length usually falls on the collarbone.
- Matinee is 20 inches (50 cm) long, usually just below the collarbone.
- If you need a chain that hangs mid-chest, choose a 20" (55cm) chain.
- For necklaces that hang around the bust, choose a 24" (60cm) chain.
2. Pay Attention to the Standard Chain Length for Men
Necklace chains for men come in four basic sizes. Like women's necklaces, men's necklaces usually hang from the same place on each man's body. The standard lengths for men's necklaces are:
- Men with smaller necks can choose an 18" (45cm) chain. This length should come down to the base of the neck.
- The most common length for an average male is 20 inches (50 cm), all the way to the collarbone.
- If you want a chain that drops just below your collarbone, choose a 22" (55cm) chain.
- For the length of the necklace just above the breastbone, use a 24" (60cm) chain.
3. Remember That Children's Necklaces Have Different Standards
Children are generally smaller in height and build, so the standard sizes for necklace lengths differ from adult standards. Most necklaces designed for kids fall into one range: 14 to 16 inches (35 to 40 cm).
Part 4: Making Additional Considerations
1. Match Your Necklace Length to the Occasion and Attire
Jewelry should complement your outfit, which is often dictated by the occasion. In general, longer necklaces should be paired with turtleneck clothing, such as turtleneck sweaters. Shorter chains are often best with formal wear, especially if the chain is short enough to sit just above the neckline of the garment.
- The correct necklace size for a casual shirt may not be the right size for a formal evening dress.
2. Double Your Chain As a Style Option
The sizes of many necklaces are often much larger than standard chains. For particularly long necklaces, you'll want to wrap the necklace two, three, or even four times around your neck. This should be a matter of style choice rather than necessity.
- A 28 to 34-inch (71 to 86 cm) necklace worn on or below the bust and usually wrapped twice around the neck.
- Necklaces 40 inches (101 cm) or longer usually fall at or below the navel and may require two or three loops around the neck.
- If a necklace measures 48 inches (122 cm) or longer, it usually wraps three or four times around the neck.
3. When Choosing a Pearl Necklace, Please Choose a Shorter Length
In most cases, the string of pearls should not be like a collar or very long. The ideal size is for the necklace to fall just above the collarbone or just below the neckline. The ideal length is usually 18 inches (45.7 cm).
- However, if you want to wear pearls for less formal occasions, extra-long necklaces can still work well. You can get strands of pearls up to 100 inches (254 cm). For a long necklace like this, wrap the necklace three or four times around the neck so the pearls don't protrude beyond the midriff.
4. Consider That the Pendant Will Increase the Length of the Necklace
The pendant will affect the overall length and weight of the necklace. When the pendant is placed on a chain of known length, the base of the pendant -- and the entire necklace -- extends in front of you for the length of the pendant. In other words, if you put a 2" (5cm) pendant on an 18" (45cm) chain, the necklace will drop 2" (5cm) below the collarbone.
-A particularly heavy pendant may pull the chain further as the weight of the pendant will strain the chain around the neck.
The method of measuring the size of the necklace has been introduced in detail above. If you have any questions or want to buy a necklace, please feel free to
contact us
.
HD Jewelry company is a professional
custom jewelry manufacturer
. We specialize in jewelry for more than 15 years, focusing on high quality AAA cubic zirconia and copper alloy jewelry. Over the years, we have continuously improved ourselves, pursued the improvement of quality and service, and become an honest enterprise that satisfies and reassures customers in all aspects. Today, we have clients from all over the world and are known for high-quality and dazzling jewelry.