Jewelry Manufacturing Process
Share
Issue Time

2022/02/28
Summary
Many people wonder how jewelry made in Hengdian factory. In this part, I will show you the 13 main steps of jewelry making in our factory, so that you can visualise participating in the production of products and feel our heart and enthusiasm for the products.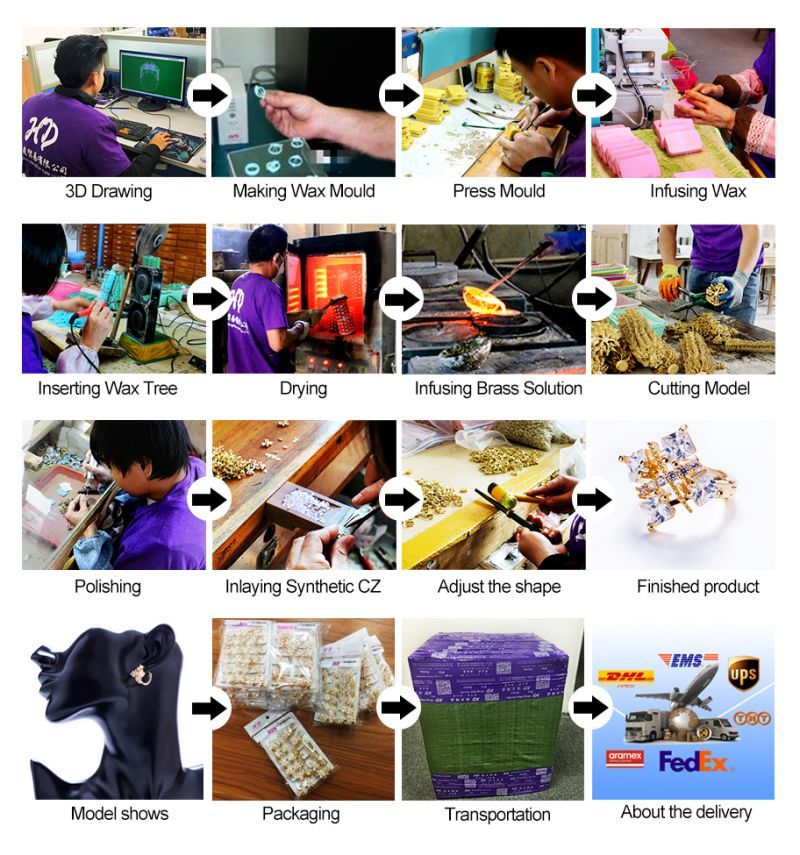 Step1- 3D PAINTING
Our professional design team will design
jewelry concepts
according to trends or your individual requirements and draw it by 3D painting.
Step2- 3D WAX MODEL
Based on the designer's 3D drawing, a wax mold is sprayed out by machine. Then a copper master will be made to check the quality according to the production process.
Step3- RUBBER MOLD Making & Final Details
Press out the rubber film models according to the masters. Rubber mold making is an integral part of the production process. It helps jewelry mass produced.
Step4- INFUSING WAX
This step involves the production of wax pieces from the rubber molds made from the copper master. The rubber mould is placed on the commercial wax injector machine. Molten wax is pressure injected into the mold cavity to create wax models for casting.
Step 5- WAX TREE
Each wax mold is individually hand-welded to a wax rod, resulting in a wax tree shaped like a large tree. This requires a lot of skill because the positioning and placement of each design that's on what we call sprue can impact or affect the ended casted result.
Step 6- PLASTER FILLING&Heating
We add the plaster as an investment material to the flask around the wax tree which we then heat in a large furnace for vacuum casting. An exact temperature using specific formulas it stays in there generally overnight before it taken directly into the casting machine.
Step 7- CASTING
We pour all the metal and alloys into the flask filling the voids where the wax had been after we've allowed all the metal to melt, and then we cool it to a point within the machine.
Step 8- FINAL QUENCH
We take it out for final quench basically rinse off any remaining investment material.
Step 9- MODELS CUTTING
Cut off the jewelry from the copper tree along the bottom of the sprue to dry.
Step 10- FILING
To file down the pieces to give a smooth textural finish or precisely solder the components together.
Step 11-ASSEMBLING
Some beautiful and
complex style
need assembling with the metal pieces and cubic zircons together, some modern
minimalist style
products can skip this step. After assembling, we need to back for final touch-up.
Step12- POLISHING & PLATING
In this department, we have a team of polishers who will apply that final touch to the piece base on the jewelry design and customer requests. We basically use 18K gold or rhodium to
plate
, not only to make the ornaments more pretty but also to protect the objects from oxidation.
Step 13- QUALITY CONTROL
Quality control (QC) is a procedure or set of procedures intended to ensure that a manufactured product or performed service adheres to a defined set of quality criteria or meets the requirements of the client or customer. There are three different methods of quality control inspection which includes include measurement, visual inspection and mechanical inspection.